Environmental Stewardship Award winners are prime examples of how environmental management benefits both the rancher's bottom line and the resources in their care.
Presented to brothers David, Randy, and Brent, their wives Peggy, Mo, and Stacey, and Neil, Bryan and Logan
2022 Regional Award Winners
Operated by the ranch's board of directors, which includes brothers of the fourth generation, David, Randy, and Brent, their wives Peggy, Mo, and Stacey, and three representatives of the fifth generation, Neil, Bryan and Logan, the Mannix Brothers Ranch includes approximately 50,000 total acres and raises approximately 1,200 mother cows, 900 stockers, and 200 beef cows in Helmville, Montana.
Together, the family manages a diversified ranching business comprising a cow-calf program, stocker program, timber entity, direct-to-consumer grass-finished beef program, and a recently opened restaurant.
Presented to Chris, Jay & Gari King
2021 Regional Award Winners
For the last 50 years, continuously improving grazing management has been a fundamental key in the ranch's sustainability efforts. Joe King, Chris's father, started those efforts in the 1970s when he sectioned off the ranch into five pastures to begin a rest-rotation grazing program.
The ranch's deferred grazing and cover crop systems have improved the rangeland, improved soil health and even turned hardpan ground into an area that is beneficial to livestock and wildlife alike.
Implementing a thoughtful and managed grazing system that rotates animals on a regular frequency allows plants to develop deeper roots, recover from grazing faster, and ultimately produce far more grass over the course of the season. This means the soil can store more carbon, allow for water to seep into the soil, and prevent run-off.
TG Ranch
David & June Voldseth
The TG Ranch's environmental stewardship story begins in the 1930s when the long drought got ranchers thinking about soil, water and grass conservation. Today the stewardship goals of the ranch include water conservation and improving soil heath and grazing land.
The ranch's water conservation efforts include the use of their two reservoirs, utilizing efficient irrigation practices for hay and pastureland, and the addition of stock tanks around natural springs.
Over the years, the ranch has improved their pastures by utilizing some rotational grazing as well as seeding improved pastures.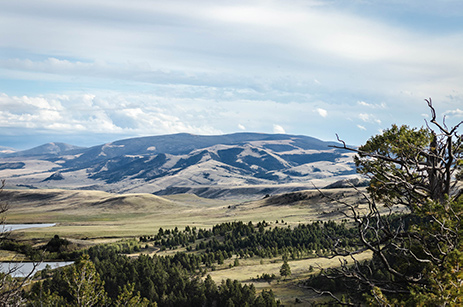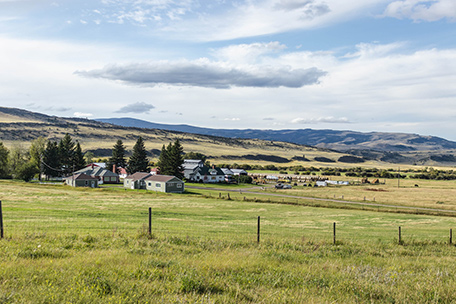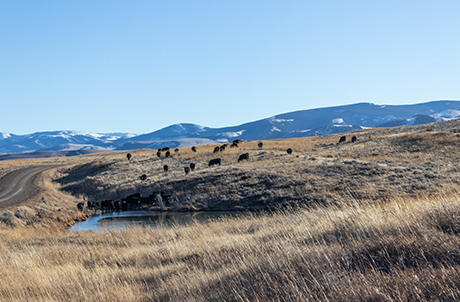 Castle Mountain Ranch
Ed and David Fryer
With a change of management in January 1998, came a renewed commitment to conservation on Castle Mountain Ranch. Over twenty years ago, Ed Fryer along with his wife Bev and two sons moved to Castle Mountain Ranch and began making their mark on the landscape.
This renewed commitment to the ranch resources has led to revised cattle handling practices, twenty five water development projects, increased pasture production – tripling the grass availability in some areas, and countless other improvement projects that benefit the land, livestock and environment.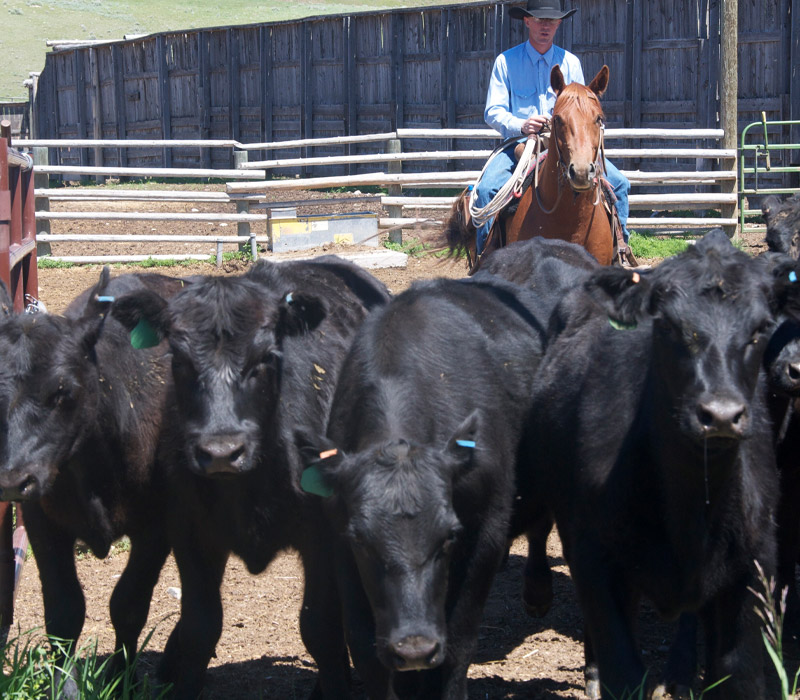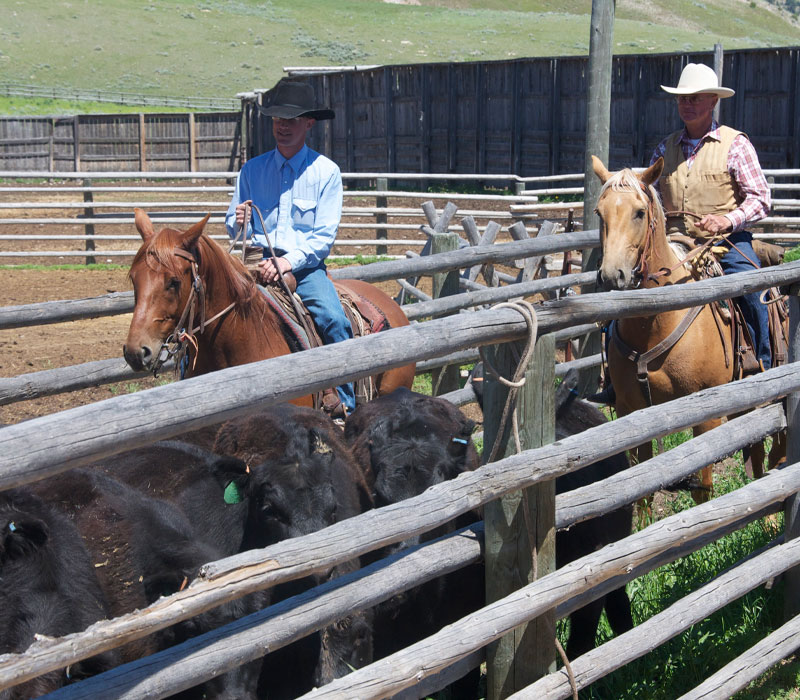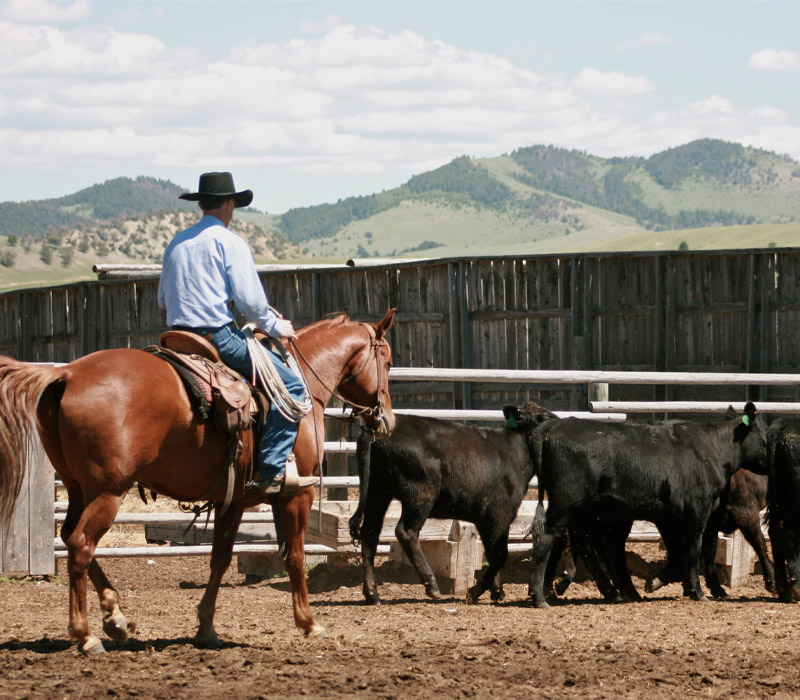 Hahn Ranch
Dusty and Chuck Hahn
2018 Regional Award Winners
This enduring focus on conservation, collaboration and environmental stewardship has ushered in the fourth generation of the Hahn family on their Townsend, Montana ranch. They're leaders in collaborative water conservation efforts that have made their irrigation use more efficient while enhancing fisheries, stream flow and connectivity for downstream users.
Their livestock graze on private and public land to feed the world, enhance wildlife habitat and preserve open spaces in perpetuity. The farmland grows both cash crops and forage crops in no-till systems to extend their grazing season, allow for longer rest periods on the rangeland and increase soil biodiversity and organic matter.
Two Creek Ranch
Wayne and Karalee Slaght
At the Two Creek Ranch, Wayne and Karalee Slaght manage about 21,000 owned or leased acres and 900 commercial pairs on the southern edge of the complex and greatly celebrated Crown of the Continent ecosystem.
Managing a landscape full of endangered or threatened species – including grizzly bears, wolves and bull trout – plus abundant elk, deer, Sandhill cranes, turkeys and trumpeter swans, requires planning, innovation and a lot of collaboration in order to stay in business and balance a healthy ecosystem. Wayne has been a leader in the industry in preventative predator management, setting the tone for how constructive, collaborative efforts can benefit the ranching community when we work cooperatively with state and federal agencies and non-governmental organizations for common stewardship goals.
They've been able to grow the cattle herd over the years by not only making their deeded land more productive with cross-fencing, noxious weed control and focused timber management, but by fostering relationships that have led to new and continued leased grazing opportunities on neighboring state and federal lands. They work to improve owned and leased land alike with strategic rotational grazing, water development and riparian restoration projects.
Cherry Creek Ranch
Lon and Vicki Reukauf
Regional Winner
Persevering in the harsh ranching climate of eastern Montana can build character, that's for sure, Lon Reukauf jokes. But lessons of the land often run on repeat, so a well-read history book can point to opportunities to learn, grow, conserve and preserve a sustainable future. Fortunately, the Cherry Creek Ranch in Terry, Montana has a well-read history to help build the future. When Lon Reukauf's grandparents homesteaded the area along Cherry Creek in 1910, there was a new pioneer home every half-mile along the dusty trail. Families were eager to try their hand at eking out a living with the Enlarged Homestead Act of 1909. While 160 acres in the vast, dry land of eastern Montana could not sustain a family, this act allowed for 320 acre settlements.
Past Environmental Stewardship Award Winners
2022 – Mannix Brothers Ranch, Helmville (Region V Winner)
2021 – Joe C King & Sons Ranch, Winnett (Region V Winner)
2020 – TG Ranch, Lennep
2019 – Castle Mountain Ranch, White Sulphur Springs
2018 – Hahn Ranch, Townsend (Region V Winner)
2017 – Two Creek Monture Ranch, Ovando
2016 – Cherry Creek Ranch, Terry (Region V Winner)
2015 – American Fork Ranch, Two Dot (Region V Winner)
2014 – LaSalle Ranch Inc., Havre
2013 – Padlock Ranch, Scott Family and Wayne Fahsholtz, Ranchester, Wyo (Region V Winner)
2012 – Bold Ranch, Robert and Annette Bold, Winifred (Region V Winner)
2011 – Keystone Ranches, Inc., Ismay
2010 – Ranchers Stewardship Alliance, Malta
2008 – Veseth Cattle Company, Malta (Region V Winner)
2007 – IX Ranch Company, Big Sandy
2006 – Mule Tracks Cattle Company, Malta
2005 – Rein Anchor Ranch, Melville
2004 – Barthelmess Ranch Corporation, Malta (Region V Winner)
2002 – Sieben Livestock, Cascade (Region V Winner)
2001 – Milesnick Ranch, Belgrade (Region V Winner)
2000 – Warm Springs Grazing Association, Alder
1999 – Christensen Ranch, Big Timber
1998 – Matador Cattle Co., Dillon (Region V Winner) (National Winner)
1997 – Tee Six Ranch, Choteau
1996 – Robert E. Lee Ranch, Judith Gap (Region V Winner) (National Winner)
1995 – Sitz Angus Ranch, Harrison (Region V Winner)
1994 – Ruffatto Land and Cattle Company, Hamilton
1993 – Ray Banister Ranch, Wibaux
1992 – Smith 6-S Ranch, Glen (Region V Winner)